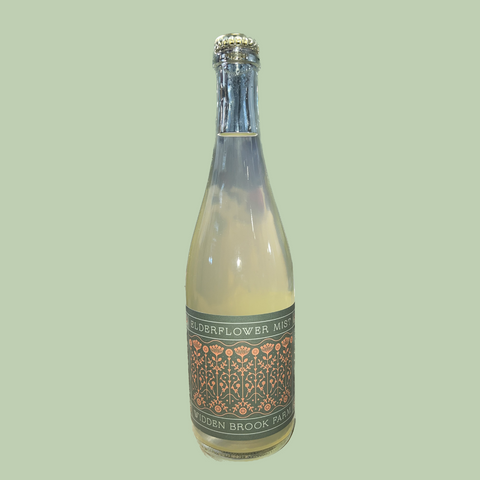 Inspired by the mists that sit in the valley below Widden Brook Farm as late as midday in summer and all day in winter, our two varieties of Elderflower Mist use farm grown, seasonally available ingredients as much as possible.
Elderflower Mist Sparkling 2022
Handcrafted at Widden Brook Farm on Nullo Mountain, near Rylstone NSW, the 2022 vintage of our signature low-alcohol sparkling drink has been created with elderflower blossoms, organic sugar and citrus along with pristine water from our very own mountain spring. There are no flavourings or preservatives added.
We ferment the small batches in vats before bottling and in true pét nat style, the natural yeasts continue to do their work as the elderflower sparkling ages in the bottle. The result of this process is an easy-drinking yet complex low-alcohol (only 2.0 %) beverage that is best served chilled. It can be drunk by itself or mixed with gin, white rum, vodka or another favourite white spirit.    
Sweetness and acidity balance perfectly with sidenotes of citrus, ginger and lemongrass. We encourage you to enjoy Elderflower Mist sparkling irresponsibly as you celebrate every day.
Our Story
Widden Brook Farm is a smallholding tucked into the western flank of the Greater Blue Mountains Heritage area on the New South Wales Central Tablelands. It's our home and where we make our Elderflower Mist Sparkling alongside our hazelnut orchard and small-scale beef cattle property.
Shireen and Darren are the team behind Widden Brook Farm. Our Elderflower Mist venture started in 2017, a few years after we moved onto the property fulltime. We had planted an elder tree as part of our permaculture-inspired food forest and it started growing incredibly vigorously.
Shireen loves to find new ways to use our farm grown seasonal produce. After kicking around a few ideas about what to make with the berries – wine, jelly, jam, syrup – we remembered seeing a River Cottage epidode where they made elderflower 'champagne'. Darren tracked down the equipment needed to get started, Shireen made a batch and we both loved
the result.
Over time we made more and more each year and started
sharing it with friends, family and business associates. Before long, people were wanting to buy by the case and that got us thinking about going into commercial production. In the spring of 2021, despite not really having recovered from the Black Summer bushfires, we took the plunge.  
We manage our farm and livestock by following the principles of Holistic Management; a form of regenerative agriculture. It's a framework that enables us to make socially, financially and environmentally sound decisions for the long and short-term.
We see living organisms of all
sorts: microbes in the soil, dung beetles and other insects, earth worms, domestic and wild grazing animals as partners who help regenerate and enhance this place we call home.
With this philosophy in mind, we aim to tread as lightly as we can in al we do on our farm. We don't use any chemicals in our food production, we're focused on improving soil health, run the property on renewable energy, provide environmental services through rehabilitation and protection of our forests and waterways while minimising waste through beneficial reuse and recycling.